La Russie et les Etats-Unis en alerte dans leurs Bunkers!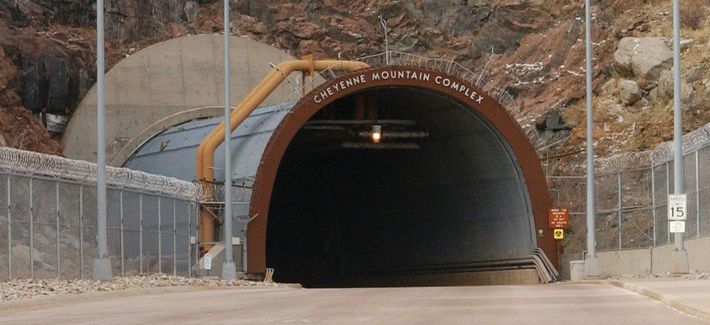 Contenu de cet article :
Note SM: Le NORAD a décidé de déménager soudainement au Colorodo à cause de cette menace grandissante. A suivre.
Dans l'article ici bas de la presse mainstream, il rappelle clairement la seule raison spécifique de ce déplacement soudain, c'est "la menace de l'attaque EMP", rien d'autre.
Dahboo 77 "Quand vous commencez à les voir se déplacer dans les montagnes, dans les bunkers, c'est que quelque chose est sur le point de se produire (…)".
La défense

aérospatiale de l'

Amérique du Nord (NORAD) déménage ces appareils de communications dans un bunker de la guerre froide
Posté le 8 avril 2015
Washington (AFP) – Le commandement militaire américain qui balaie le ciel de l'Amérique du Nord pour contrôler les missiles ennemis et les avions va déplacer son matériel de communication dans un bunker en montagne datant de la guerre froide, les agents ont dit.
Le déplacement à la base de Cheyenne Mountain dans le Colorado est conçu pour protéger les capteurs et les serveurs sensibles de la commande à partir d'une attaque potentielle par impulsion électromagnétique (EMP), les officiers militaires ont dit.
Le Pentagone la semaine dernière a annoncé un contrat de 700 millions de $ avec la Société Raytheon pour superviser le travail de la défense aérospatiale de l'Amérique du Nord (NORAD) et du US Northern Command. (…)
Le bunker dans la montagne Cheyenne est une caverne creusée dans une montagne dans les années 1960 qui a été conçu pour résister à une attaque nucléaire soviétique.(…)
Mais en 2006, les responsables ont décidé de transférer le siège du NORAD et de l'US Northern Command situés à la base de Cheyenne vers Petersen Air Force à Colorado Springs. Le bunker Cheyenne a été désigné comme un centre de commandement de remplacement si nécessaire.
Plus de détails ici: http://news.yahoo.com/us-aerospace-command-moving-comms-gear-back-cold-015320113.html
Secret Bases
Cheyenne Mountain Complex
38° 44′ 39.41″ N, 104° 50′ 48.5″ W
..
Photo of the North Portal entrance to Cheyenne Mountain
Google Earth View
..
Google Earth View
Cheyenne Mountain Dictorate
..
Emblem of Cheyenne Mountain Operations Center. Shield of the Cheyenne Mountain Operations Center,
Cheyenne Mountain Dictorate
Colorado Springs, Colorado, United States
Type: Operations facility
Coordinates: +38° 44' 39.41", -104° 50' 48.50"
Built: June 1961 – February 1966
Construction materials: Steel, 3/8-inch continuously welded low carbon steel plates, reinforced concrete bulkheads, baffled steel
In use: April 20, 1966 – present
Controlled by: NORAD/US Air Force
Garrison: Cheyenne Mountain Air Force Station
Cheyenne Mountain is a mountain located on the southwest side of Colorado Springs, Colorado, USA, and is home to the Cheyenne Mountain Air Force Station[1] and its Cheyenne Mountain Directorate, formerly known as the Cheyenne Mountain Operations Center (CMOC).
During the Cold War and continuing to today, the Cheyenne Mountain Operations Center and Cheyenne Mountain Directorate collect data from a worldwide system of satellites, radars, and other sensors and process that information in real time. Operations are conducted around the year in the Air Warning Center, Missile Correlation Center, Operational Intelligence Watch, Systems Center, Weather Center, and the Command Center.
While the functions of the Space Control Center have moved to Vandenberg Air Force Base and there are plans to move remaining operations to nearby Peterson Air Force Base, NORAD continues to conduct day-to-day operations in Cheyenne Mountain and upon a final move to Peterson Air Force Base will maintain the Cheyenne Mountain Directorate for use in the event of an emergency.
The design of this facility makes it one of the most unusual installations in the world. Apart from the fact that it is housed 2,000 feet (600 m) into the mountain, it is also notable in that it is a joint and binational military organization comprising over 200 men and women from the Army, Navy, Marine Corps, Air Force, Coast Guard, and Canadian Forces.
Contents:
History:
The Cheyenne Mountain complex traces its origins to 1956, when General Earle E. Partridge, commander of the Continental Air Defense Command, proposed construction of a new underground combat operations center to replace the outgrown and vulnerable above-ground facility at Ent Air Force Base, Colorado.
..
Cheyenne Mountain photographed from outside of Fort Carson. Trails of the former Ski Broadmoor can be seen to the right. Date Feb. 2007
The launch of Sputnik I, the world's first man-made satellite, on October 4, 1957, demonstrated not only the accomplishments of the Soviet Union's space program, but also the capability to launch nuclear warheads from one continent to another. In response, the North American Aerospace Defense Command (NORAD) was established on May 12, 1958.
The Department of Defense started researching potential sites, and determined that Cheyenne Mountain was an ideal site due to its location in the center of the continent, lack of earthquake activity, and proximity to the United States Air Force Academy and Fort Carson, Colorado. Excavation for the facility began three years later in May 1961, and was completed in May 1964. The NORAD Combat Operations Center became operational on February 6, 1966, and operations were transferred from Ent Air Force Base on April 20, 1966.
The original requirement for an operations center in Cheyenne Mountain was to provide command and control in support of the air defense mission against the Soviet manned bomber threat, but several events and emerging technologies drove this mission to evolve beyond those initial needs.
The development of the intercontinental ballistic missile (ICBM) in the 1960s presented a new threat, and evolved into missile warning and air sovereignty missions taking precedence in the 1960s and 70s. For a brief period in the mid-1970s, the Ballistic Missile Defense Center operated within the Mountain.
Faced with the threat of ballistic attack, and with the advent of larger computer processing capabilities, NORAD developed a series of warning and assessment systems that resulted in the launch of the 427M in 1979. Then, NORAD and the Air Defense Command jointly developed individual acquisition programs that were supposed to resolve operational and sustainment problems.
..
NORAD command center, Cheyenne Mountain, Colorado, circa 2005. USAF photo
The Air Force continued to modernize into the 1980s, and had commissioned five acquisition programs to be completed by 1987 at a cost of $968 million. However, it was soon determined that a consolidated upgrade would be much more effective, and the Air Force initiated the Cheyenne Mountain Upgrade (CMU) program in 1989.
CMU contained several major subsystems: Granite Sentry, the Communications System Segment Replacement (CSSR), the Survivable Communications Integration System (SCIS), the Space Defense Operations Center 4, and the Command and Control Processing and Display System Replacement (CCPDS-R). The Air Force also maintained the Alternate Missile Warning Center at Offutt Air Force Base as a fully functional backup program.
After continual delays and escalating costs, the CMU program was determined to be eight years behind schedule and $792 million over budget as of 1994. The initial versions of CMU's subsystems turned out to be unreliable and unresponsive to users' needs, and actually operated parallel to the systems that they were supposed to replace.
Into the 1990s, the Operations Center provided theater ballistic missile warnings during Operation Desert Storm, when Defense Support Program (DSP) satellites looked for the heat from missile and booster plumes and provided warning to civilians and troops in Israel and Saudi Arabia.
In the ensuing years, Cheyenne Mountain became home to elements of the North American Aerospace Defense Command (NORAD), the U.S. Strategic Command, the U.S. Air Force Space Command, and the U.S. Northern Command (USNORTHCOM). Eight centers supported the NORAD missions of aerospace warning and aerospace control and provided warning of ballistic missile or air attacks against North America.
In 2006, NORAD chose to move the bulk of Cheyenne Mountain's operations to nearby Peterson Air Force Base in order to reduce duplication of function between the two sites. On July 28, 2006, NORAD renamed the facility as the Cheyenne Mountain Directorate, and placed the operations center on "warm stand-by," meaning that the facility will be maintained and ready for use on short notice as necessary, but not used on a daily basis.
The Operations Center itself lies along one side of a main tunnel bored almost a mile through the solid granite heart of the mountain. The tunnel is designed to route the worst of a blast's shock wave out the other end, past the two 25-ton blast doors that mark one wall. The center was designed to withstand up to a 30 megaton blast within 1-nautical-mile (1.9 km).
..
NORAD blast doors, Cheyenne Mountain, Colorado. USAF photo
Blast doors:
The underground Combat Operations Center (COC) was originally intended to provide a 70% probability of continuing to function if a five-megatonnuclear weapon detonated three miles (5.6 km) away, but was ultimately built to withstand a multimegaton blast within 1.5 nautical miles (2.8 km; 1.7 mi). It was also designed to be self-sufficient for brief periods, have backup communications and television intercom with related commands, house personnel during an emergency, and protect staff against fallout and biological and chemical warfare.
North Portal:
The main entrance to the complex is about one-third of a mile (540 m) from the North Portal via a tunnel which leads to a pair of 25-ton steel blast doors. Behind them is a steel building complex built within a 4.5 acres (18,000 m2) grid of excavated chambers and tunnels and surrounded by 2,000 feet (600 m) of granite. The main excavation consists of three chambers 45 feet (15 m) wide, 60 feet (20 m) high, and 588 feet (180 m) long, intersected by four chambers 32 feet (10 m) wide, 56 feet (17 m) high and 335 feet (100 m) long. Fifteen buildings, freestanding without contact with the rock walls or roofs and joined by flexible vestibule connections, make up the inner complex. Twelve of these buildings are three stories tall; the others are one and two stories.
The outer shell of the buildings is made of three-eighths-inch (9.5 mm) continuously welded low carbon steel plates which are supported by structural steel frames. Metal walls and tunnels serve to attenuate electromagnetic pulse (EMP). Metal doors at each building entrance serve as fire doors to help contain fire and smoke. Emphasis on the design of the structure is predicated on the effects of nuclear weapons; however, building design also makes it possible for the complex to absorb the shock of earthquakes. During a nuclear explosion, powerful springs that support the complex can absorb much of the energy.
Blast valves, installed in reinforced concrete bulkheads, have been placed in the exhaust and air intake supply, as well as water, fuel, and sewer lines. Sensors at the North and South Portal entrances will detect overpressure waves from a nuclear explosion, causing the valves to close and protect the complex. The buildings in the complex are mounted on 1,319 steel springs, each weighing about 1,000 pounds (450 kg). The springs allow the complex to move 12 inches (30 cm) in any one direction. To make the complex self-sufficient, adequate space in the complex is devoted to support functions. A dining facility, medical facility with dental office, pharmacy and a two-bed ward; two physical fitness centers with exercise equipment and sauna; a small base exchange and barber shop are all located within the complex.
Electricity comes primarily from the city of Colorado Springs, with six 1,750 kilowatt diesel generators for backup.
Water for the complex comes from an underground supply inside Cheyenne Mountain, deposited into four excavated reservoirs with a capacity of 1.5 million US gallons (6,000 m³) of water. Three serve as industrial reservoirs and the remaining one is the complex's primary domestic water source. They are so large that workers sometimes cross them in rowboats. About 30,000 to 120,000 US gallons (110 to 450 m³) are actually retained at any given time.
Incoming air may be filtered through a system of chemical/biological/radiological/nuclear (CBRN) filters to remove harmful pathogens and/or radioactive and chemical particles. The fresh air intake is mainly from the south portal access which is 17 ½ feet (5.3 m) high and 15 feet (4.6 m) wide and linked to the north portal access which is 22 ½ feet (7 m) high and 29 feet (9 m) wide. The entire tunnel from north to south entry portals is nine-tenths of a mile (1.5 km) long.
The NORAD command center has been modernized several times over the years. The original equipment resembled Mission Control for NASA's Project Apollo in the 1960s-1970s and used similar Philco-Ford consoles and display systems. The current (2005) version, with ordinary desks and flat-screen displays, looks rather ordinary by comparison and resembles NASA's current (2000s) mission control.
Cheyenne Mountain's computers twice produced false alarms of possible nuclear attack. On November 9, 1979 a computer communications device failure caused warning messages to sporadically flash in USAF command posts around the world that a nuclear attack was taking place. A similar incident occurred on June 2, 1980 when a technician in NORAD loaded a test tape but failed to switch the system status to "bypass", causing a stream of constant false warnings to spread to two "continuity of government" bunkers as well as Command Posts worldwide.[2]
Both times, Pacific Air Forces (PACAF) had nuclear-loaded planes in the air. Strategic Air Command (SAC) did not take action and took criticism for not following procedure, even though the SAC Command Post knew these were obvious false alarms. Both Command Posts had recently begun receiving and processing direct reports from the various radar, satellite, and other missile attack detection systems, and those direct reports did not match anything about the erroneous data received from NORAD.
See also:
References:
Cheyenne Mountain Air Force Station Official website
This article incorporates public domain material from the United States Government document "Cheyenne Mountain Directorate".
External links:
Air Force Space Command (AFSPC)
..
Air Force Space Command (AFSPC)
Centers:
Bases:
Stations:
Wings:
Squadrons: