104 Villes souterraines pour survivre aux USA pour l'Elite uniquement, exercice réel le 23 Septembre 2015
Le président Donald Tusk va participer au sommet du G7 qui se tiendra au château d'Elmau, en Allemagne, les 7 et 8 juin 2015. Les principaux points à l'ordre du jour fixé par la présidence allemande sont l'économie mondiale, les affaires étrangères, la sécurité et les questions liées au développement. Les dirigeants discuteront en outre des négociations qui auront lieu prochainement dans le cadre des Nations unies en vue d'élaborer un nouvel accord international sur le changement climatique, du cadre de développement des Nations unies pour l'après-2015 et de la sécurité énergétique, sur la base de l'initiative sur l'énergie du G7 de 2014.
Contacts avec la presse
Preben Aamann
Porte-parole du président du Conseil européen
+3222815150
+32476850543
Jüri Laas
Attaché de presse
+3222815523
+32470957561
Les 7 et 8 juin prochains, le président du Conseil européen, Donald Tusk, participera au sommet du G7 qui se tiendra au château d'Elmau, en Bavière (Allemagne), sous la présidence de l'Allemagne. Il y représentera l'Union européenne avec le président de la Commission européenne, Jean-Claude Juncker.
Les principaux points à l'ordre du jour fixé par la présidence allemande sont l'économie mondiale, les affaires étrangères, la sécurité et les questions liées au développement. Les dirigeants discuteront en outre des négociations qui auront lieu prochainement dans le cadre des Nations unies en vue d'élaborer un nouvel accord international sur le changement climatique, du cadre de développement des Nations unies pour l'après-2015 et de la sécurité énergétique, sur la base de l'initiative sur l'énergie du G7 de 2014. Une séance de travail spéciale associant des invités sera consacrée à la lutte contre le terrorisme.
Le vendredi 5 juin à 10 heures, une séance d'information animée par Piotr Serafin, sherpa de l'UE pour le G7, aura lieu dans la salle de presse principale du Conseil européen, bâtiment Justus Lipsius.
Le dimanche 7 juin à 11 heures aura lieu une conférence de presse commune préalable au sommet, avec les présidents Tusk et Juncker, dans la salle de presse du château d'Elmau, en Allemagne.
Les journalistes se rendant au sommet qui souhaitent être informés des éventuelles autres activités prévues pour la presse sont invités à envoyer un courriel à l'adresse suivante: press.president@consilium.europa.eu
* Un semi-remorque, arborant le sigle de la franc-maçonnerie, transporte des "cercueils" (boîtes mortuaires) le 21 septembre 2012 dans le Wisconsin
Ici, une vidéo qui a été tournée en 2008 où on peut voir l'entreposage de ces dizaines de milliers de contenants en Georgie. Ces contenants ont toutefois été déplacés puisque j'avais archivé les coordonnées de leur emplacement et aujourd'hui, il n'y a que des espaces verts.
La compagnie PolyGuard est un fabricant de ces "contenants funéraires":
Dans la vidéo, très bruyante, vous pourrez voir les nombreux articles en provenance des médias qui rapportent le contexte de ces ordres d'évacuation. L'auteur de la vidéo a trouvé16 évacuations de Walmart sur le territoire américain entre 2008 et 2014 et 34 de janvier à juin 2015.
Un, deux ou trois événements similaires, soit des évacuations dans différents Walmart, n'attireraient certainement pas notre attention. Mais près d'une trentaine d'appels à la bombe ou d'individus menaçants qui nécessitent l'évacuation pendant de 4 à 6 heures sur une période de 6 mois, c'est tout de même intrigant.
Sous la vidéo, vous trouverez tous les articles des médias concernant ces évacuations.
Doomsday Lairs! Elite Bug-Out Underground Bunkers And Cities Prepared For Major Catastrophe - The Elite Will Survive, Will We?
Elite Bug-Out bunkers souterrains et villes Préparées pour la catastrophe majeure du 24 Septembre 2015- Nos Elites ont également leurs places prévues pour survivre, mais nous, où irons-nous?
Comment passer le Cap "Climatique" que Fabius a révélé pour le 24 septembre 2015?, la Jet set a réservé des palaces souterrains que vous ne pourrez jamais vous offrir, avec l'argent du contribuable. Ces révélations Américaines, nous montrent l'Etat d'avancement des préparatifs qu'ils ont mis au point, c'est donc du sérieux, d'autant plus que Bill Gates a fait la Réserve mondiale de semences du Svalbard (en norvégien Svalbard globale frøhvelv, en anglais Svalbard Global Seed Vault et littéralement Chambre forte mondiale de graines du Svalbard), est une chambre forte souterraine sur l'île norvégienne du Spitzberg destinée à conserver dans un lieu sécurisé des graines de toutes les cultures vivrières de la planète et ainsi de préserver la diversité génétique.
Ce site a été choisi parce que le climat et la géologie du Spitzberg se prêtent parfaitement à un tel projet de conservation et que les pays scandinaves sont fortement impliqués dans ce dernier. Creusée près de la petite ville de Longyearbyen (1 900 habitants)1 dans l'archipel arctique du Svalbard à environ 1 120 km du pôle Nord, cette chambre forte est gérée par un accord tripartite entre le gouvernement norvégien, l'organisation internationale Global Crop Diversity Trust et la banque génétique nordique (une coopération des États scandinaves sous l'autorité du Conseil des ministres nordiques).
La première pierre a été posée le 19 juin 2006 en présence des premiers ministres de Norvège, de Suède, de Finlande, du Danemark et d'Islande. L'inauguration officielle a eu lieu le 26 février 20082.
Le fondateur de Microsoft Bill Gates a passé beaucoup de temps dans le domaine des vaccins et des médicaments, tant et si bien que beaucoup le considèrent comme l'un des plus grands experts au monde sur la vaccination et les maladies tendances. Il a dépensé des millions de dollars de son propre investissement de l'argent dans les technologies liées à la vaccination et est un fervent partisan des programmes de vaccination à grande échelle.
Quel que soit votre point de vue sur les vaccinations, le fait est que Bill Gates est vénéré pour ses activités par la communauté mondiale. En outre, il a de l'argent et des connexions pour faciliter la mise en œuvre de programmes répandus, que ce soit volontaire ou forcé.
Dans son dernier Op-Ed Gates, il envoie un message fort aux dirigeants politiques et au grand public, affirmant que même un virus mortel tel que le virus Ebola peut être à l'horizon. Selon Gates, si un tel virus commence à se propager dans le monde qui est mal préparé pour y faire face.
L'épidémie d'Ebola en Afrique de l'Ouest a tué plus de 10.000 personnes. Si rien de bon ne peut venir de cette tragédie qui se poursuit, il est que le virus Ebola peut éveiller le monde à une triste réalité: Nous sommes tout simplement pas prêts à faire face à une épidémie mondiale.
...
De toutes les choses qui pourrait tuer plus de 10 millions de personnes à travers le monde dans les prochaines années, de loin le plus probable est une épidémie. Mais il presque certain que ce ne sera pas Ebola.
...
Autres maladies - la grippe, par exemple - se répandent dans l'air, et les gens peuvent être contagieux avant qu'ils se sentent malades, ce qui signifie qu'une personne peut infecter de nombreux étrangers simplement en visitant un lieu public. Nous avons vu cela se produire avant, avec des résultats horribles: En 1918, la grippe espagnole a tué plus de 30 millions de personnes. Imaginez ce qu'il pourrait faire dans le monde hautement mobile d'aujourd'hui.
New York Times Via Le Common Sense Afficher
En effet, la réapparition d'un virus mortel comme la grippe espagnole serait désastreux.
Mais devrions-nous être inquiets? Selon Dave Hodges nous devrions l'être.
Bill Gates la soif de vaccins ne connaît pas de limites. Lors de réunions avec d'autres «philanthropes» (c.-psychopathes) encourageants, les chercheurs mondiaux ont commencé à reconstituer d'anciens virus, probablement dans le but de développer des vaccins pour les pandémies meurtrières du passé.
Dans un avenir proche, nous pouvons souhaiter et avons suivi le vieil axiome, "Laissez le chat qui dort", parce que dans un acte d'une extrême folie, le virus a été reconstitué , par le Center for Disease Control chercheurs. Le virus reconstitué a été obtenu à partir d'échantillons de tissus congelés d'une femelle qui est mort à partir du virus dans le foyer 1918.
Malheureusement, la grippe espagnole n'est pas le seul cas de pandémie qui est reconstitué et cela signifie encore plus de vaccins pour Bill Gates. Combien vont mourir pour que Gates et ses partenaires puissent réaliser un retour sur investissement très lourd?
...
Le jury est pas sûr de Bill Gates.C'est un homme qui parle avec son esprit. Dans son éditorial du New York Times, Gates nous met en garde contre le retour du virus Ebola et aussi de la ré-émergence d'autres virus mortels. Ce serait une grave erreur de ne pas prendre au sérieux Bill Gates. Qu'est-ce que Bill Gates sait que nous ne savons pas?
Rapport complet
Nous savons que les scientifiques ramènent les fléaux d'autrefois, justifiant cela en prétendant qu'ils utilisent ces vieux virus pour créer de nouveaux vaccins. En outre, l'armée a travaillé sur les armes biologiques depuis des décennies, de sorte que l'on ne peut imaginer les types de virus qu'ils ont dans leur poche arrière.
Mais on ne peut pas empêcher de penser que peut-être le public aura mis en place pour les programmes futurs qui nécessiteront des vaccins forcés.
Ces derniers mois, nous avons vu la réémergence de la rougeole aux États-Unis. Bien que personne n'a officiellement identifié la cause, on soupçonne que la politique de frontières ouvertes du gouvernement peut être à blâmer. Mais le débat sur la rougeole, centré non pas tant sur la façon dont cette supposée épidémie éteinte est arrivé ici , mais que tout le monde a besoin de se faire vacciner .
Nous avons entendu des arguments semblables au sujet d'un vaccin à virus Ebola à venir. Bien que pas encore testé, nous entendons déjà des appels à la vaccination forcée qui devraient être développés. Bizarrement, il parle même d'un vaccin combiné Ebola / rougeole .
La fin du jeu est pas encore claire, mais étant donné que le Bill Gates est très respecté et met en garde contre des épidémies incontrôlables, il ya un couple de scénarios qui viennent immédiatement à l'esprit. Premièrement, le pouvoir exécutif des États-Unis n'a pas de scrupule à utiliser des Actions de l'exécutifs et des ordonnances pour mettre en œuvre sa politique, les vaccinations forcées pourraient bien être sur le chemin si la grève de la crise à droite, et ils vont venir avec de prépandues déclarations de la loi martiale . Deuxièmement, et peut-être encore plus effrayant, est que Bill Gates a la connaissance d'une maladie mortelle qui pourrait bientôt être déclenchée.
Depuis il n'y aurait pas de remède, votre seule option serait alors de se faire vacciner, ou, pour mettre en œuvre des mesures pour éviter de contracter la maladie pour commencer.
Tess Pennington, auteur de Blueprint Le Prepper , dit que nous devrions rester vigilants et chercher des signes qui indiquent une épidémie virale est imminente:
Le temps de se préparer pour le pire des cas est maintenant. Ce qui suit sont six panneaux d'avertissement clés que vous devriez rechercher. Lorsque ces événements viennent à passer ou vous voyez ces signaux, vous devriez sérieusement envisager de mettre en place un verrouillage auto de quarantaine:
les fonctionnaires d'urgence disent qu'ils ont la situation sous contrôle, mais plus de cas continuent à apparaître.
Les gouvernements locaux et étatiques déclarent officiellement une urgence.
Des cas ont été identifiés à votre hôpital local ou dans les écoles dans votre voisinage général.
Le grand public commence à paniquer et les tablettes des magasins commencent à manquer de fournitures essentielles comme la nourriture et l'eau en bouteille.
Le pillage et l'anarchie se produit au sein de la communauté locale.
Le virus viole un rayon de 50 mile qui entoure votre maison ou votre ville.
Si un de ces signes commencent à apparaître autour de vous, il est temps d'envisager sérieusement de vous éloigner de la société, et en particulier des lieux très denses comme les magasins de détail, des événements sportifs ou des écoles.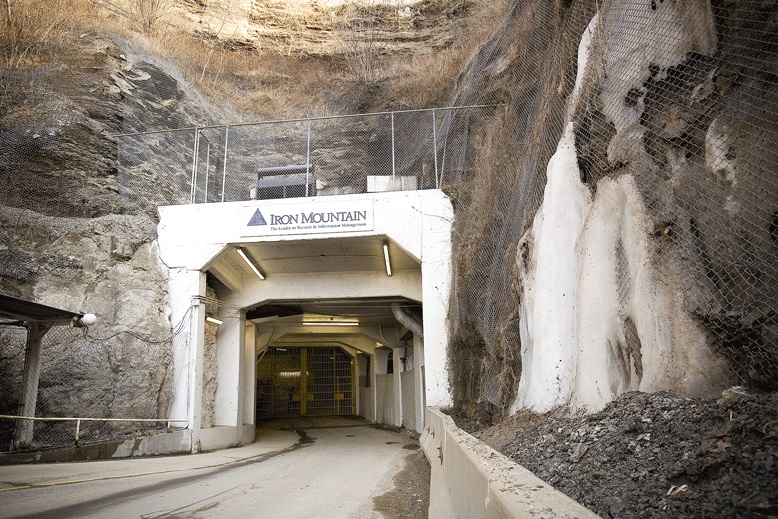 With stories of missing food, recalls, government stockpiling of ammunition and weapons, medication shortages, vanishing money andmissing gold, and more being buzzed about on the Internet, one possible answer of where it is all going, who is hoarding it, can be found over at the Bob Fletcher Investigation website.... a site I encourage everyone to go to and browse around.

While some may not agree with his ultimate conclusions of what the final catastrophe will be, the information provides on "Doomsday Lairs", underground facilities, bug-out locations, whole cities and tunnel systems, not only in the US, but across the globe, makes it undeniable that the elite are preparing for an extinction level event, using food, money, gold and other necessities, all paid for by you.... the taxpayer.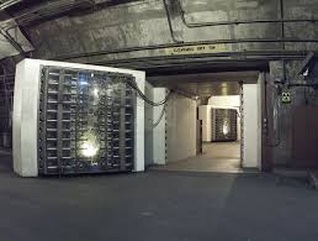 They will be safe and cozy, underground and protected, while those very same taxpayers are fighting to survive the aftermath of the expected catastrophe.

I go through some of these these locations, (over 100 of them at the site!) in the first video below. The second video was shown in an article from yesterday, so people can hear Fletcher directly, where he explains how he obtained much of this information on these bunkers and connecting it to the "vanishing" money. The following videos after those two are older, companies building bunkers for the elite, and a look inside of an underground bunker stocked with food and necessities.

A few of the most talked about locations are Denver Airport, Weather Mountain, Site "R" Raven Rock, Area 51, Camp David and Under the Capitol Building.... just to name a few.

The bottom line is they have been preparing for decades.... have you?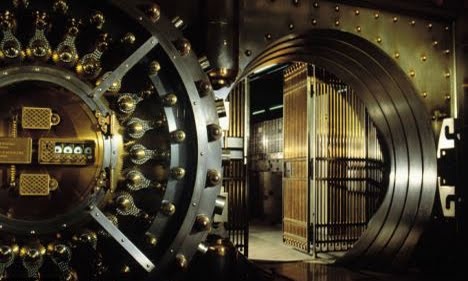 RT
Sun, 29 Mar 2015 17:27 UTC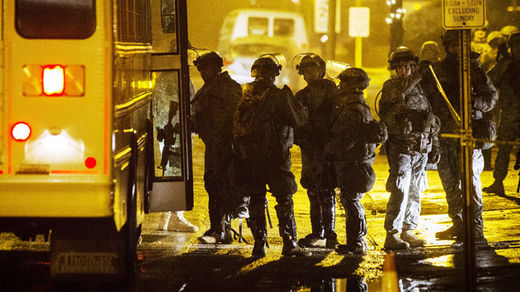 As elite branches of the US military prepare to hold military training in seven southwest states, with some troops operating incognito among civilians, some Americans fear the training is actually preparation for imposing martial law.
Operation Jade Helm, which is scheduled to kick off in July and run for eight weeks, will involve the participation of 1,200 troops from the US military's most elite fighting forces, including Green Berets, Navy SEALS and Special Operations from the Air Force and Marines.
The troops will be participating in what has been called Realistic Military Training in towns in Arizona, California, Colorado, New Mexico, Nevada, Texas and Utah.
In an effort to simulate the type of battlefield conditions soldiers may face in foreign countries,
the US military has designated the remote training areas where they will operate as in a
"hostile"
territory
, a description that has irked some residents.
Meanwhile, Texans living in close proximity to the operation will be asked to report any
"suspicious activity"
during the exercise
, a request that seems to contradict the belief laid out in the
US military training document
,
leaked
by The
Houston Chronicle
, that Texans are
"historically supportive"
of military efforts to
"fight the enemies of the United States."
The training exercise, according to
Shadow Spear
, a publication of USASOC,
"will be conducted on private and public land with the permission of the private landowners, and from state and local authorities."
"The most noticeable effect the exercise may have on the local communities is an increase in vehicle and military air traffic and its associated noise,"
Shadow Spear
said.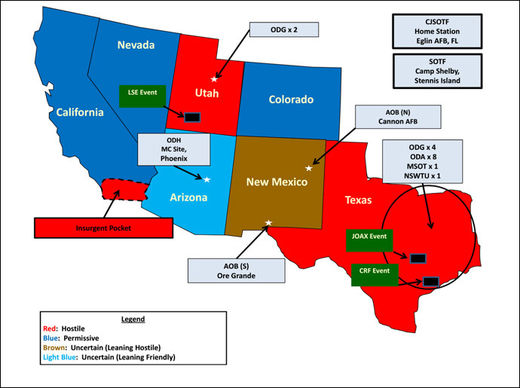 Army Special Operation Command spokesman Mark Lastoria attempted to allay fears that the training is a actually an effort on the part of the military to practice
"covert warfare tactics and martial law."
He said the domestic military operations are designed to develop
"emerging concepts in special operations warfare,"
and were not part of some kind of dark plans to take over the United States.
"That notion was proposed by a few individuals who are unfamiliar with how and why USASOC conducts training exercises,"
he told
Stripes
, a US Army publication.
"This exercise is routine training to maintain a high level of readiness for Army Special Operations Forces because they must be ready to support potential missions anywhere in the world on a moment's notice."
Paul Pape, a Bastrop County judge, also downplayed fears that the domestic military training was in reality rehearsal for full-blown martial law on the streets of America following some sort of major catastrophe
.
"What I see here is an opportunity for a portion of our military to be better prepared and better trained to do work that has to be done to secure America's interests around the world and here at home,"
Pape told KEYE television in Austin, Texas.
The explanations given for the training, however, has not stopped fierce speculation among a number of citizen groups and alternative media sites as to why the entire states of Texas and Utah, as well as a section of southern California, have been declared
"hostile,"
while portions of the military detachment will be operating in the shadows of communities.
"They're having Delta Force, Navy SEALS with the Army trained to basically take over,"
Info Wars' Alex Jones railed Sunday.
"Texas is listed as a hostile sector, and of course, we are... here defending the republic."
This is not the first time that American urban areas have served as the training areas for US forces.
In December 2014, Americans were unsettled by the spectacle of US Special Forces
black helicopters
buzzing the skylines of major US cities, including Dallas and Los Angeles, part of what it described as training in
"realistic urban sites."
Now, the Special Forces boots will be on the ground in cities and towns across the country, and that has some people asking a lot of questions.
Comment:
Well, there was this recent drill:
Operation Vigilant Guard
. Here's a somewhat creepier explanation of Operation
Jade Helm
:
Breaking News : Une comète de 3 km de diamètre se dirige droit sur Terre avec des cris et des sons démoniaques mystérieux! (vidéos)
Breaking News : Une comète de 3 km de diamètre se dirige droit sur Terre avec des cris et des sons démoniaques mystérieux! (vidéos)
Par Lyn Leahz,
S.V.P partagez cette information partout avant qu'elle ne soit retirée du web!
Cela fait un moment que plusieurs sources différentes nous mettent en garde d'un astéroïde ou d'une météorite qui provoquera des dégâts cataclysmiques sur Terre et qu'elle anéantira les États-Unis d'Amérique. Mais une source m'a confirmé qu'un objet de 3km de diamètre, que les chercheurs étudient depuis des années, se dirige droit sur Terre et l'impact est prévue entre le 15 septembre (la fin de l'opération Jade Helm Drills, et deux jours après la fin de la Chemitta) et le 28 septembre de cette année, 2015.
Il a aussi confirmé que c'est pour cette raison précise que les nations ont déplacé leurs missiles nucléaires sur d'autres sites et pourquoi ces deux dernières années les nations ont soudainement désiré tester leurs missiles, les États-Unis ont testé les leurs cette année!
Pourquoi nous devons stratégiquement déplacer nos missiles et les tester maintenant? Eh bien, en dernier recours, si cette comète de 3km de diamètre ne se brise pas (qui dans tous les cas, même si elle venait à se fragmenter, elle provoquerait des dégâts ASTRONOMIQUES, SANS PRÉCÉDENTS), ils pourront lancer des missiles dans sa direction en même temps. Cependant, nous n'aurons qu'une seule chance. De plus, nous n'avons pas encore la technologie capable de détruire des objets célestes, surtout ceux de cette taille-là, avec un missile.
*Les mystérieux sons démoniaques laissés par la Comète sont dans la vidéo ci-dessous, vous pourrez mieux les entendre avec un casque*
Selon un article qui a été récemment publié par Reuters:
La branche de New York de la Réserve Fédérale Américaine, est inquiète qu'un désastre naturel ou que toute autre éventualité pourrait mettre un terme à ses opérations dans les marchés, alors qu'elle expérimente une forte hausse de ses taux d'intérêt et qu'elle a embauché et renfloué son bureau satellite à Chicago.
Donc quand l'économie s'effondrera en septembre juste après la fin du cycle de la Chemitta (le 13 septembre), peu de temps après, la comète, d'après ma source, fera son apparition flamboyante et terrifiante.
Ce sera un évènement qui mettra un terme final aux religions du livre; ce qui veut dire, que cet évènement mettra un terme (littéralement) à la tribulation divine. Cela veut-il dire que le jugement divin commencera immédiatement? Non! Il aura lieu sur une période de plusieurs mois, je pense… probablement en Mars 2016 quand l'Antichrist se révèlera au monde.
En outre, ce corps céleste possède un « chant mystérieux » propre à lui, qui a été enregistré par des satellites et qui fait l'objet d'analyses en ce moment-même. J'ai rajouté les sons dans ma vidéo. Ne les ratez pas! Je vous recommande d'écouter ces sons avec un casque, car vous avez vraiment l'impression de descendre les escaliers menant directement en Enfer, vraiment flippant!
J'ai aussi pris connaissance du nom de cette comète particulière, cependant, étant donnée que l'on peut la confondre avec une autre je préfère me taire. Sachez que des millions de dollars ont été investi pour étudier cette comète.
Voici mes notes lors de notre conversation, elles sont télégraphiques et brutales:
pays qui bougent missiles. relocaliser ailleurs pour résistance, tirer sur la comète… effort mondial, chine, transférer les missiles
prévue entre 15 – 28 septembre
orbite instable
Venezuela et Brésil 300 km de la côte tsunami mondial si elle ne se fragmente pas
niveau d'extinction ultime – hiver nucléaire obscurité mort de la végétation et animaux, catastrophique
activité sismique importante des îles surgiront de océan, activité volcanique, tremblements de terre, augmentation de 200% par rapport à 2010
yellowstone, types avec combinaison astronaute tente sauver USA, éruptions massives geysers signe d'attraction gravitationnelle de la comète, animaux tombent du ciel, catastrophes en série
comète/astéroïde/météore programme d'observation appelé Wormwood en Australie
Trop de gens ont prophétisé un tel évènement. Trop de gens ont eu des rêves lucides et des visions. Trop de sources le confirment. Trop de choses étranges se passent en ce moment même (Jade Helm, Asteroid Day, le Near Earth Object Program de la NASA. Les messages illuminati. Le climat étrange. Des milliers d'animaux qui tombent du ciel. Augmentation des séismes, de l'activité volcanique, et plus…)
A moins que la majorité des américains ne se mettent à se repentir dés maintenant ce sera la fin pour eux dans les mois à venir (2 Chroniques 7:14) « si mon peuple sur qui est invoqué mon nom s'humilie, prie, et cherche ma face, et s'il se détourne de ses mauvaises voies, -je l'exaucerai des cieux, je lui pardonnerai son péché, et je guérirai son pays. »
1 – Perry parle de rêves prophétiques qu'il eut il y a longtemps et qui ont été accomplis. A partir de 11 minutes jusqu'à 15 minutes, Perry dit que ses rêves décrivaient un tsunami qui frappait la côte est des USA. Il a dit que ses rêves étaient de plus en plus fréquents, alors qu'ils étaient rares. Qu'ils ont désormais lieu une ou deux fois par semaine, récemment il en a fait 3 en 10 jours. Comme je m'attends à un renversement des pôles magnétiques pour cette année, je m'attends à ce que plusieurs tsunamis touchent les côtes du monde. Plusieurs prophéties décrivent cela.
2 – Il dit que nous sommes à un « tournant prophétique » car, comme on peut le lire dans le verset 12 du livre de Daniel, une compréhension plus vaste sera accessible alors que nous approchons de la fin des temps. Je pense que la fin approche très rapidement si cela est vrai.
3 – « C'est 1993 à nouveau, l'Amérique est aveugle » – je soupçonne qu'une dictature est imminente.
Source: Before It's News, le 27 avril 2015
18.7K
110 Share117
21 20.9K Share17